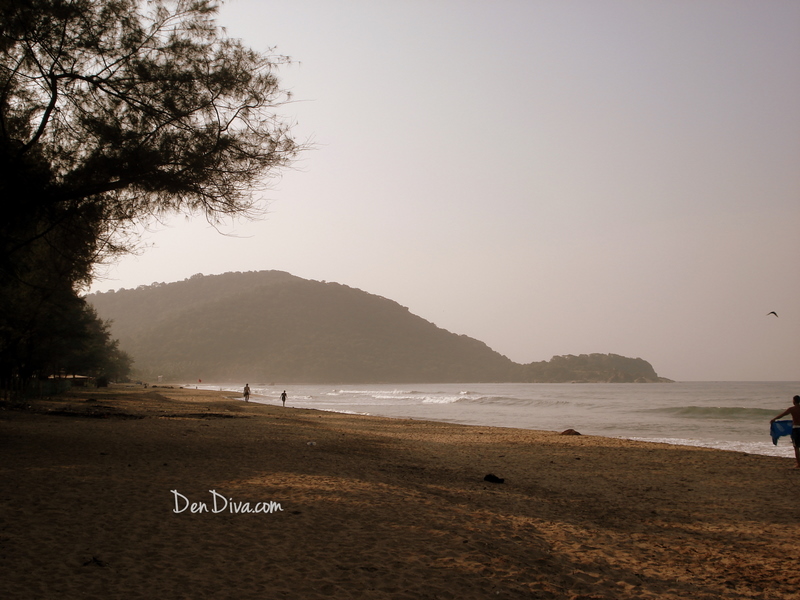 We finally decided to visit Goa after hearing so much about it, being the most visited place in India. But we had only 2 days to stay so I decided to visit South Goa instead of North and the usual Baga and Calangute. For me there is more places in Goa unexplored rather than the touristy ones. I like calm sort of place not the party places. So Agonda was perfect in our case. Do check out our trip pics in my Flickr Album
We took the Konkan railway route and what a journey it was. The train journey was itself a sight seeing tour, with the trains climbing the mountains and going on the top of it. We passed the Dudh sagar waterfalls on the way, with the train going over it. The view was spectacular. The falls is in itself a famous tourist spot.
So we reached Agonda and stayed in Jardim a mar. It is a beach front resort, actually all of the resorts/cottages present in Agonda are beach front. It is a laid back village and the beach doesn't have any entry path. One has to pass through someone's backyard or a resort to go to the beach. We had opted for a beach hut in front of the sea. And it was a charming hut with all basic amenities. Being a beach front place, most of our time was spend in lazying around in the seating areas available there. There is no much activity in Agonda beach, if you need a calm serene place then it's the place to be. The first day we decided to just relax and enjoy the beach view.
Second day we hired a 2 wheeler to explore the nearby places. First we went to Cabo de Rama, which was a fort currently in dilapidated conditions. When we went there we were shocked to find that we were the only persons present. Its a vast space and in some places fort walls are present. After spending some time we started to come back to the resort. The drive was so beautiful and there were couple of points where the view of the sea was amazing. We took our time and enjoyed the drive back. Then we had a hearty lunch in one of the local restaurants present, the people are very friendly there. And the food prepared from the local catch which makes it fresh.
In the evening we decided to drive to Palolem beach. Its the party beach in South goa like Baga and Calangute. The moment we reached we saw loads of people, shops. It was very crowded. I felt like going back to Agonda as there I felt like having a private beach. Anyways me and hubby tried to spend some time there, but decided we will return before sunset and enjoy that scene from Agonda beach. The beach was beautiful though with small hills in middle of the sea giving it a mystic look. But I would have stayed there if less people were present. After coming back I felt like 'Phew, got spared', I am not much of a crowd loving person and neither is hubby. We enjoyed the sunset from the serene beach of Agonda. The food at Jardim was too good, and people from other resorts come to the restaurant here as the ambiance and food is good.
Finally it was the day we had to return back. We had to go to Margao station for our train in afternoon. The nearest railway station to agonda is Margao (around 40km) and Canacona (around 10km, bus stand is also present here). Again while coming back we saw the amazing sights of the Konkan ghats and promised myself will again come back for sure.