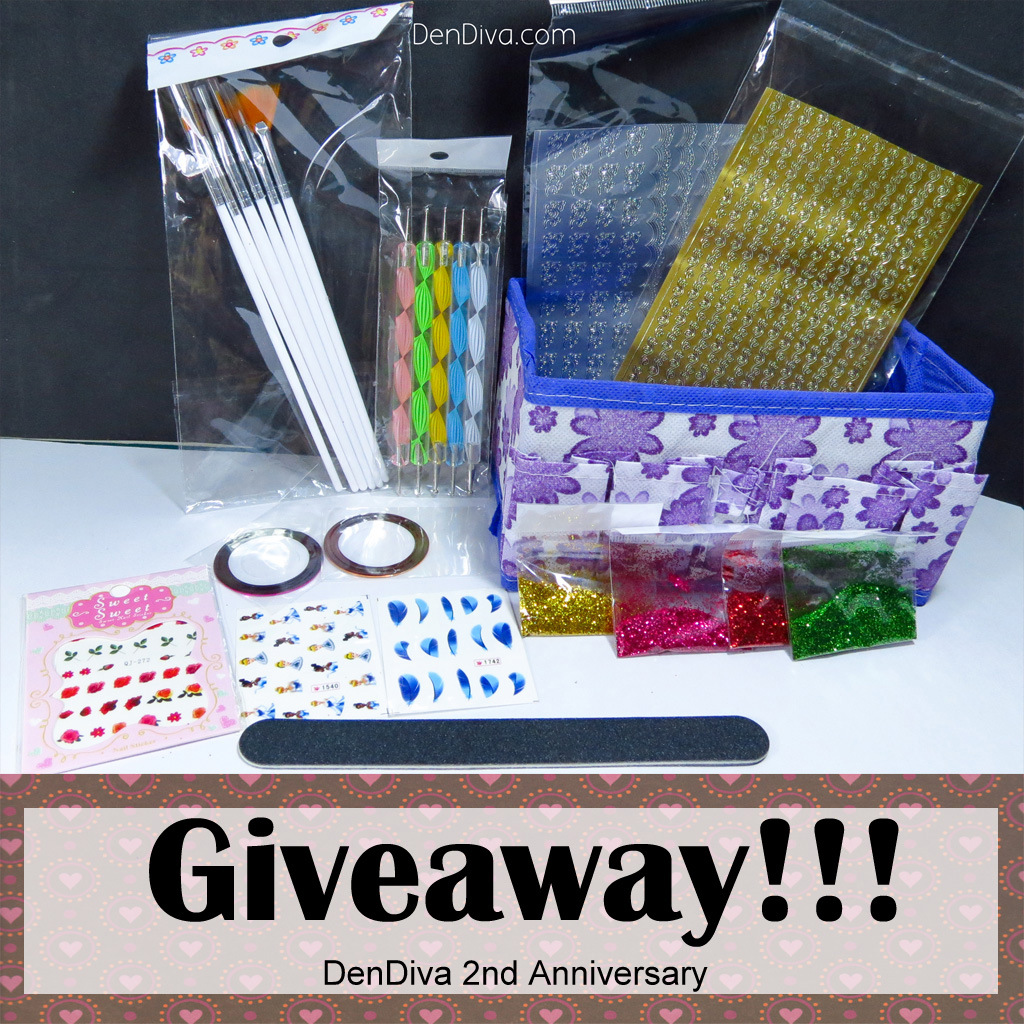 So its time to start my 2nd Giveaway. Are you excited!! I have a bunch of Nail art items to giveaway in this contest. I will explain how you can enter the giveaway, what are the terms and conditions and most important what are the prizes to win.. so read on! If I have missed to explain or write something please let me know in comments below.
PRIZES:
1. A set of 5 Dotting Tool
2. A set of 5 different Nail art brushes
3. 2 Nail art stickers sheets – Gold and silver
4. 2 Stripping tape
5. 1 Nail buffer
6. 3 Nail Decals – One Disney Princess, One Rose and One Feather pattern
7. 4 Colors of Nail Art Glitters – Red, Green, Golden, Pink
8. A foldable makeup storage/organiser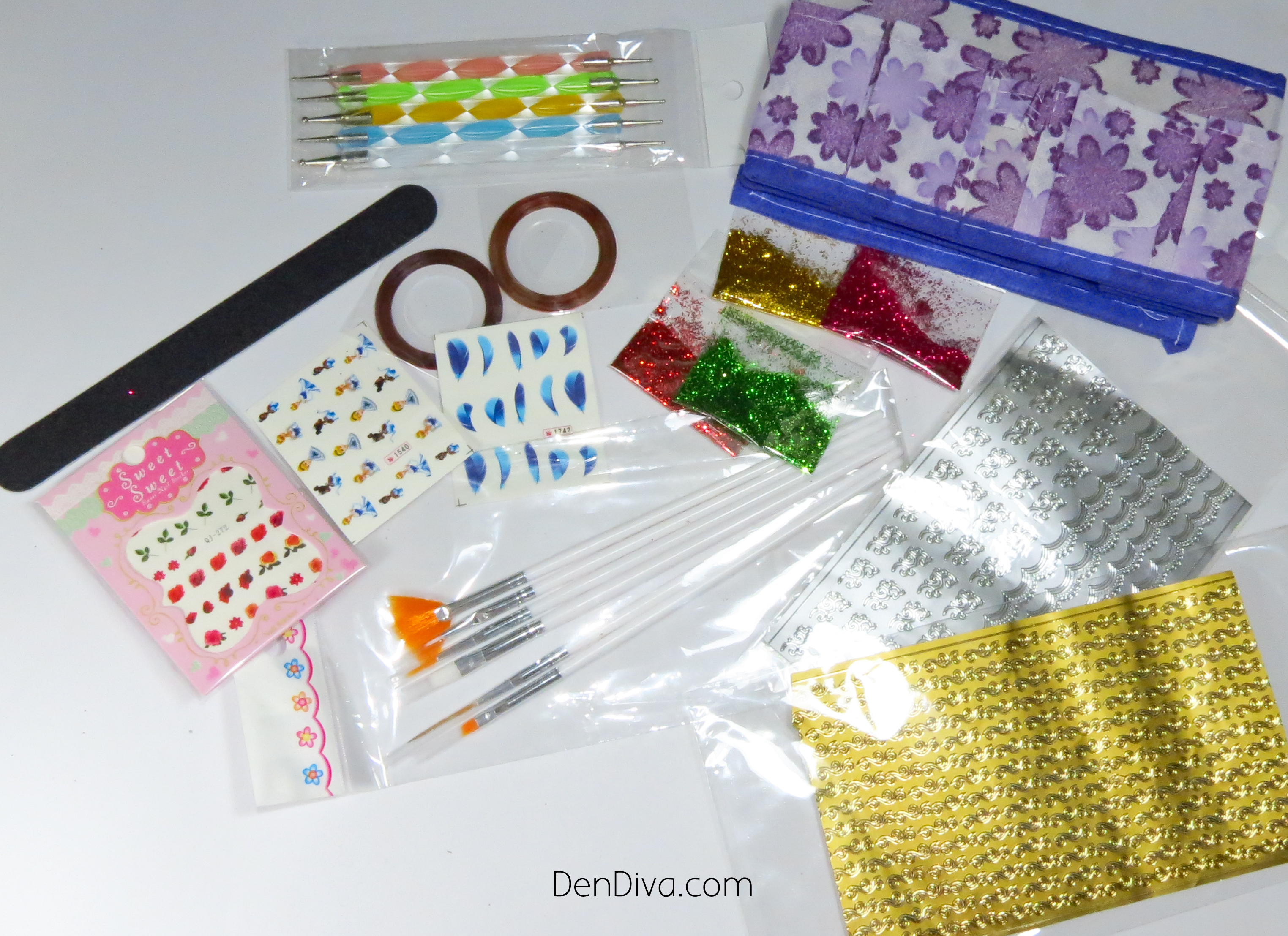 You can enter my giveaway by following the Mandatory Rules listed below. You can also grab some bonus entries by following my Optional rules. More the entries, more the chance of winning.. so read on. I will check and verify the entries by using the giveaway hashtag. So don't miss any step else your entry may be invalid.
MANDATORY RULES: (Must follow all 3)

1. Face Book Rules:
Keep your post privacy to public so that I can verify
Tag Me & Use Hashtag #dendivagiveaway2
Tag 10 friends
2. Twitter Rules :
3. Subscribe to my Blog by email (Use the Subscribe widget at the right hand side column in this Page). Once you have entered your mail ID, you will get a mail to activate your subscription. Do confirm your subscription by Clicking on 'Confirm Follow' in the mail.
** If you don't have a FB/twitter account, you have to follow any 3 of the Optional Rules listed below to qualify.
OPTIONAL RULES for BONUS ENTRY

For every point followed you get one extra entry. If you follow any optional Rule, mention in comment below which ones you followed so that I can verify and give required extra entries
1. Follow me & Repost my giveaway (mention #dendivagiveaway2) in Instagram – @dendivablog
2. Subscribe to my Youtube Channel – https://www.youtube.com/user/DenDivaDotcom (Keep your subscriptions Public so that I can verify)
3. Like & Comment on 5 of my Facebook posts
4. Like & Comment on 3 of my Youtube Videos
GIVEAWAY Terms & Conditions :
1. It will be active from 21 May – 19 June 2015.
2. I will then verify all the entries and Pick one winner(by Random.org and assigning numbers to your entries)  & announce on 24th June. Will upload a video of process how I picked the winner. So you can see its being done fairly.
3. Winner announcement will be done here in my Blog and my Facebook Page. And winner will have 24 hours to contact me, failing which I will choose another winner.
4. This giveaway is Open to India only.
5. If you are below 18 and you win the giveaway, I will need your Parents consent in mail to send the prizes.
6. This is not a sponsored giveaway, all the prizes has been brought with my own money.
7. In case of emergency or unforeseen situation, I can change the rules (Just the dates part)
8. Lastly no hate or rude comments if you didn't win. Just take it sportively and just that it isn't your lucky day. And no unfollow after giveaway ends, else you will be banned from future giveaways. I am doing it with positivity and request you to be positive as well, since I am conducting in all fairness.
So hope you have read everything I have written till now and you can write any doubts or concerns you have in comment below or in my Facebook page. All the best for the giveaway Divas!!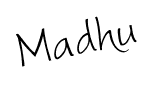 Giveaway Post : For other info