Organizing your kitchen and particularly a smaller kitchen, can be tricky. I know because I have a small kitchen. So that's when kitchen organizers are so essential to clear your clutter as well as utilize all the space you have to their maximum capacity. I believe a clutter-free kitchen will result in less stress of finding stuff, when you are in hurry for your day-to-day activities. Today I will Review 3 Kitchen Organizers from YouCopia which I think are must in anyone's Kitchen. And there's a GIVEAWAY for you all, for a chance to win some of their amazing products.. so read on to know more!!
StoreMore Lid Holder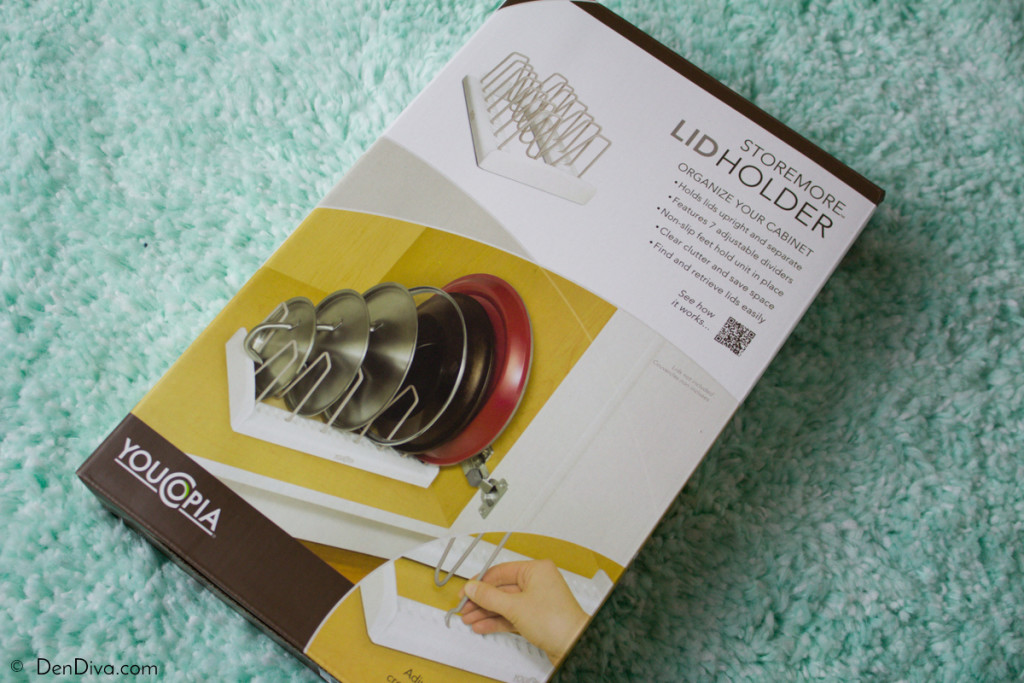 Buy it here from Target or YouCopia
When I am cooking something, to get the right lid for my utensil had been a struggle on my part. But this organizer is so much convenient. It takes so less space compared to the lids just randomly laying around. It could fit in my large and small kitchen cabinets. And it looks so sleek, will give your kitchen that modern look for sure. The built is of high quality and can stand the weight of small as well as big and heavy lids.

Features :
1 .You get 7 adjustable dividers and many slots where you can put it, depending on your need.
2. The non-slip feet hold the unit in place which is very crucial when storing glass lids. It didn't budge when I kept and took out the lids.
3. It requires no mounting or installation, just simply keep in your cabinets or any flat surface.
4. Holds the lid upright and separate.
5. Coated steel wires protect your lids
You can see I have tried to store different size lids here, small, medium and large. And it holds them perfectly.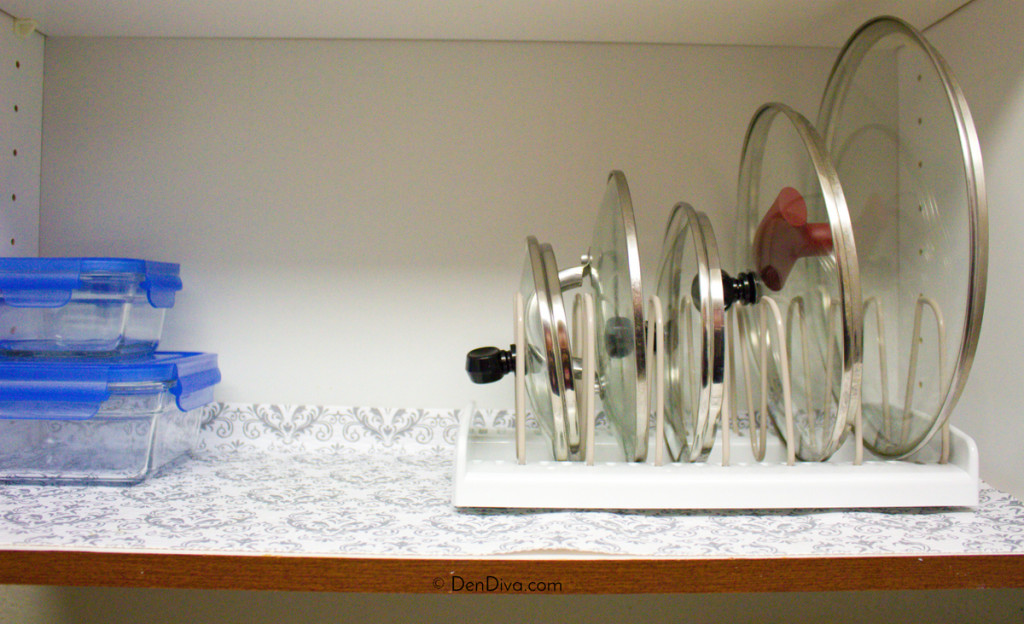 SpiceLiner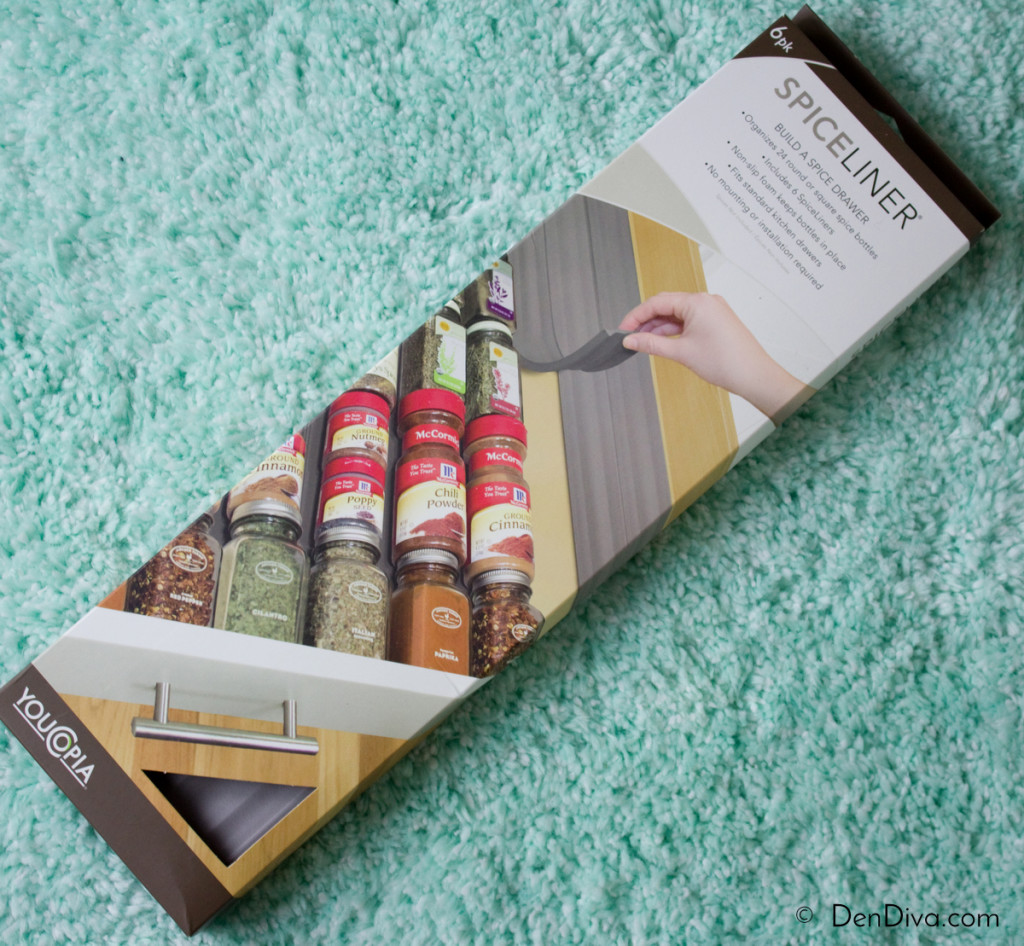 Buy it here from Target or YouCopia
I am really excited about this product. Not only it makes my Spice drawer look uniform but most importantly, nothing moves when opening or closing the drawer. It includes 6 piece of liners and you can Organize 24 round or square spice bottles.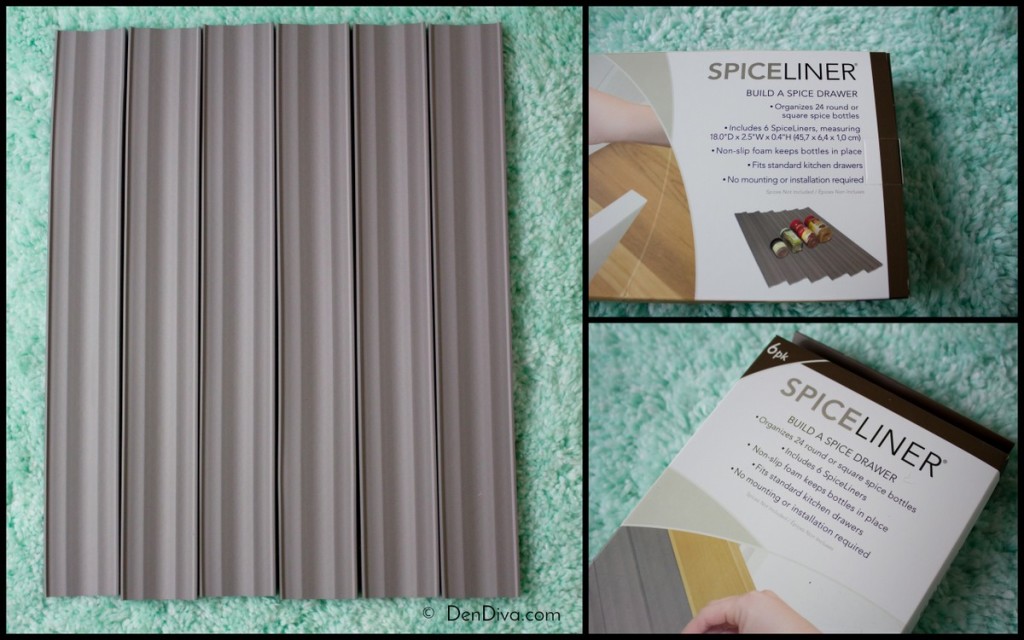 Features:
1. It fits standard kitchen drawers, fitted mine perfectly.
2. No mounting or installation needed, just place them on your drawers, simple and easy
3. Non-slip foam keeps bottles in place, which is so awesome!
4. You can store different size bottles and it would fit fine. I tried with different shape and size bottles i.e. small, medium and large size and circle and square shapes, everything fitted nicely.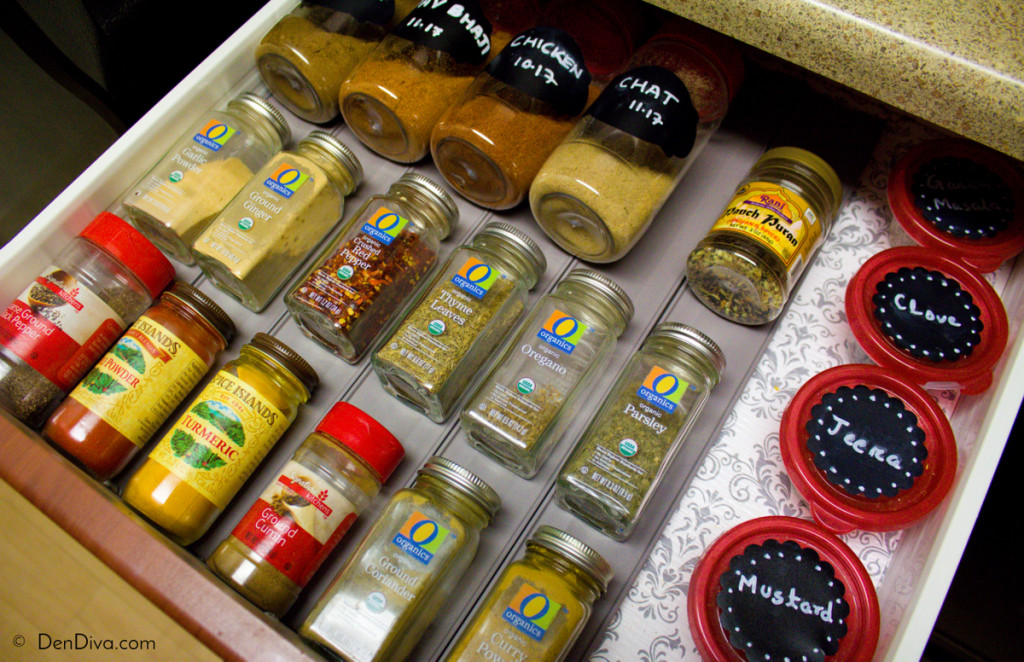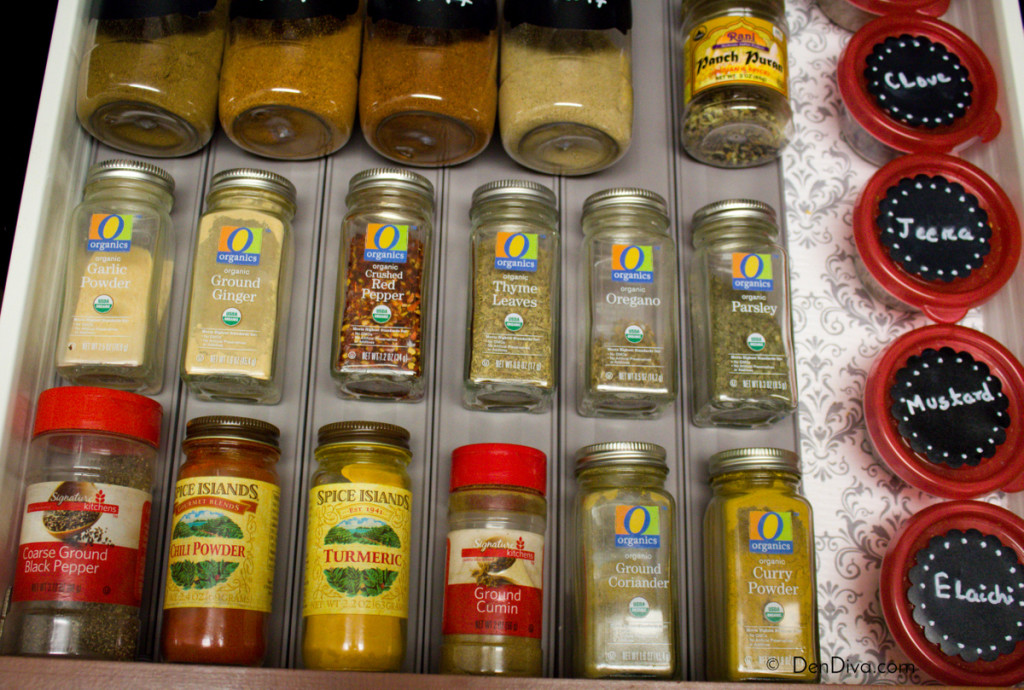 StoreMore Bakeware Rack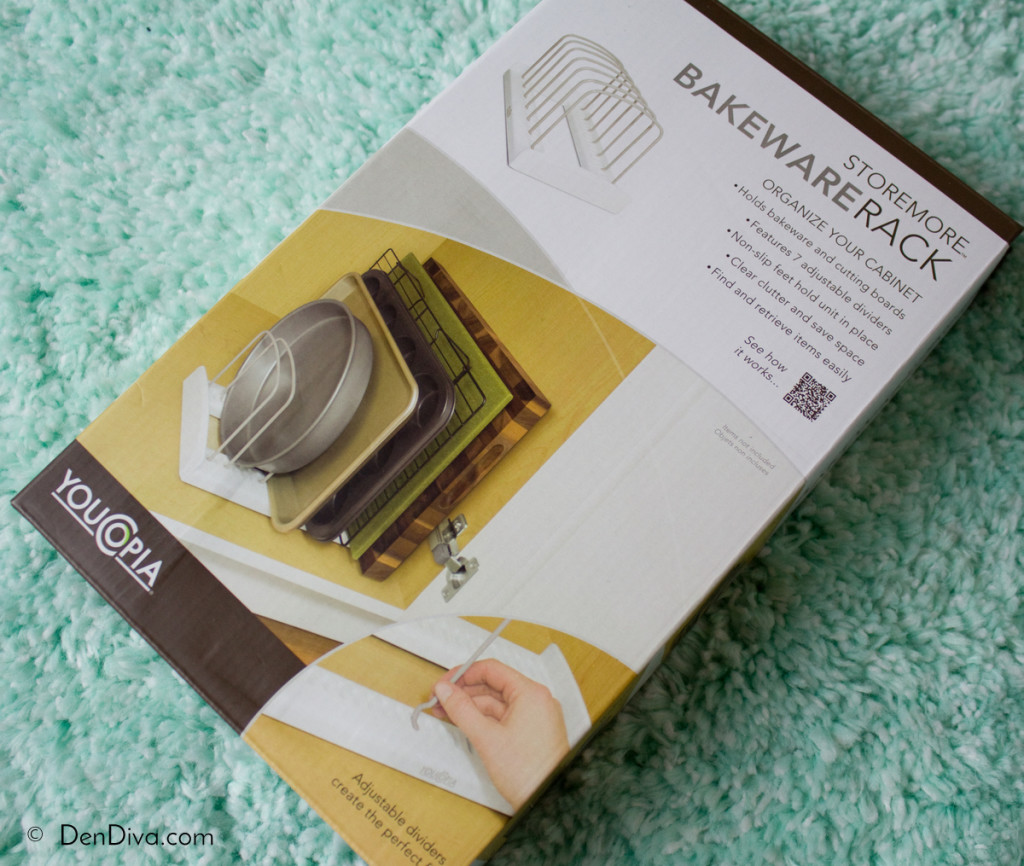 Buy it here from Target or YouCopia
Now you can store your bakeware and cutting boards in a small space and separately so you can access it anytime you want. And definitely the clutter is less once they are all stored vertically to utilize the height of the cabinets. You can store cutting boards,bakeware pans, platter, and it also holds large dinner plates, so lots of utility!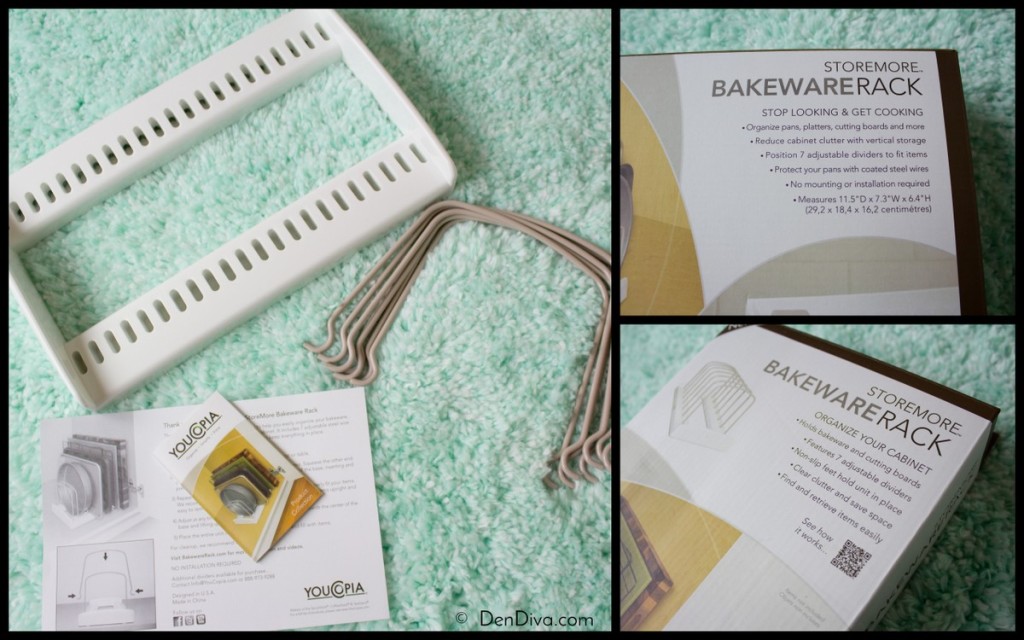 Features
1. There are 7 adjustable dividers and lots of slots so you can customize it.
2. To prevent the holder from moving, there is a non-slip feet holding the unit in place.
3. Coated steel wires protect your pans
4. Can withstand heavy weight, I store a iron skillet which is really really heavy and I was impressed it could stand its weight without any issues.
So you can see how I am storing the utensils below in the Bakeware Rack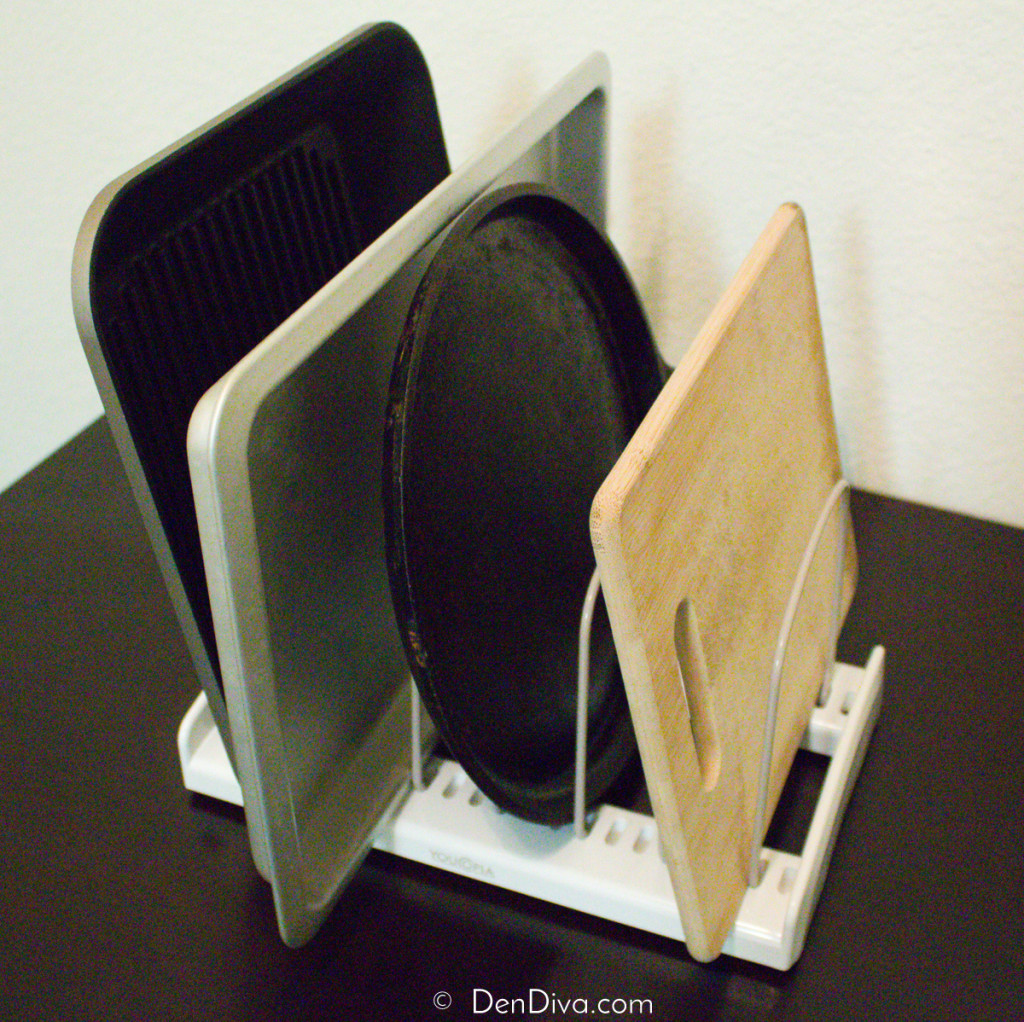 GIVEAWAY DETAILS
So now that you have seen some amazing products, its now time I should share all details about the Giveaway!! YouCopia were kind enough to host this Giveaway. The prize is a selection of YouCopia products for up to $40.00. All you need to do is follow all the steps mentioned in the Widget below. All Rules, Terms and Conditions are mentioned below as well. Giveaway Last Date is 9th of February, so Hurry!!!
Win a YouCopia Product of your choice #35
Good luck to all of you!!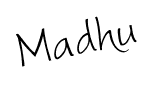 DISCLOSURE – I received this product free in exchange of my honest and unbiased opinion.
Save
Save
Save
Save
Save
Save
Save