When we are in Schools or Colleges and want to look out for educational institutes offering our next higher courses, it gets little difficult to search and find the suitable one. Mainly it takes a lot of time and effort. CollegeDunia.com helps you in guiding and finding the appropriate institute for you. There was no such portal which collaborated all the information and presented it to you. Surely this is going to be helpful to the students out there! So I will be doing a review of this website with its key features, usability and how to look for right information you need.
As per the News release from BusinessWireIndia
"Sahil Chalana Founder of Collegedunia, says "We spotted a huge gap in the data being catered and the quality of information being sought by College aspirants in the pre Admission session. The notification of colleges today is very scattered and students are looking out for detailed presentments such as Cut offs, Admission Process, eligibility and even Co-Curricular Facilities."
He Adds "We currently have information on 15000 colleges and universities Across India and would be able to cover 30000 by the end of 2014. We have a team of 10 people with sole purpose of providing high quality content on Cut Offs, Placements, Admission, Festivals and even minute details such as Course Intake, Fees and Reservation etc."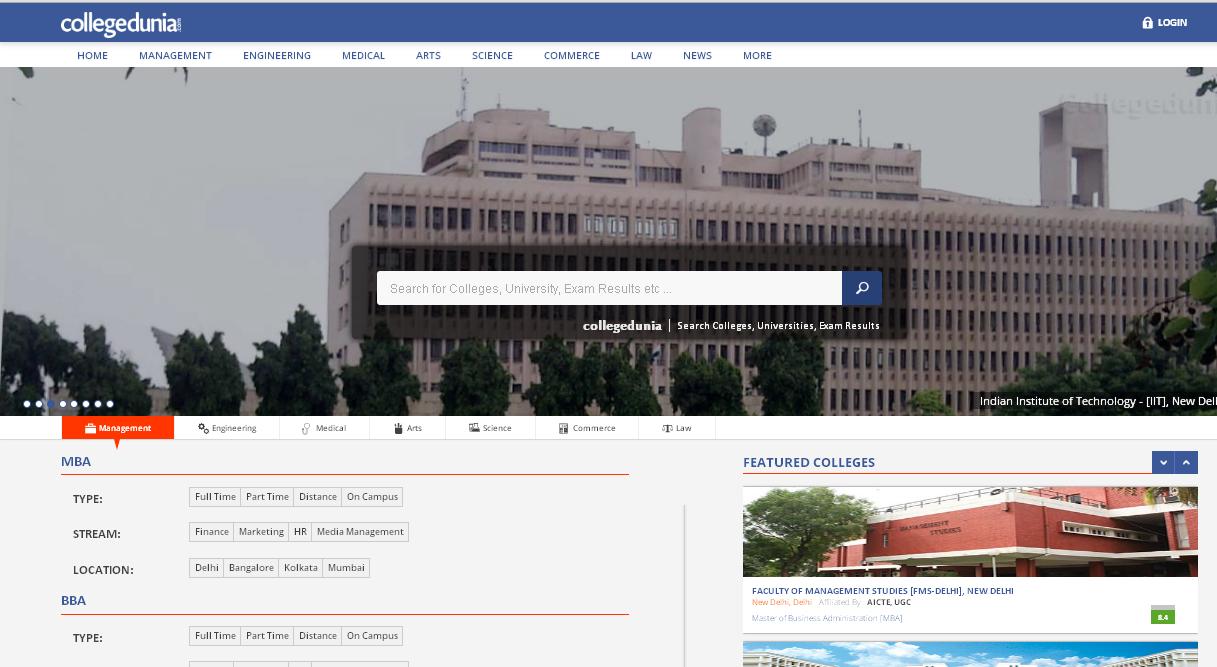 1. About the Site : Overall look and feel
I love the design and overall look. I being a website developer myself, am quite impressed with the simple workflow (its getting techie
.. ok just say the site plan). Its very easy to browse through the site, the loading time is good. The design is simple and crisp and anyone can use it easily if you are visiting for first time and get relevant information. Which overall says its good website from designing point of view.
2. Usability
Now from usability side. Will mention few points here about its main feature points
– There is a search option available to search directly for any Institute,exam result etc
– There are categories(tabs) based on different streams, which makes it easy to filter and search related information.
– Again within Categories there are sub categories like Which type of course, location  and stream which further narrows the search.
– There are also News posts about the colleges which provide latest information regarding Admission and more. There are also trending posts which are displayed, so you can know what's currently in buzz.
3. How to get Relevant information from CollegeDunia.com
Ok now I will just explain using a simple example here. Suppose I want to see all the Engineering college information, will first Click on the Engineering tab. And it will display the list of the Engineering colleges. Further you can Choose Filter like State, City, Type of course to narrow down your search.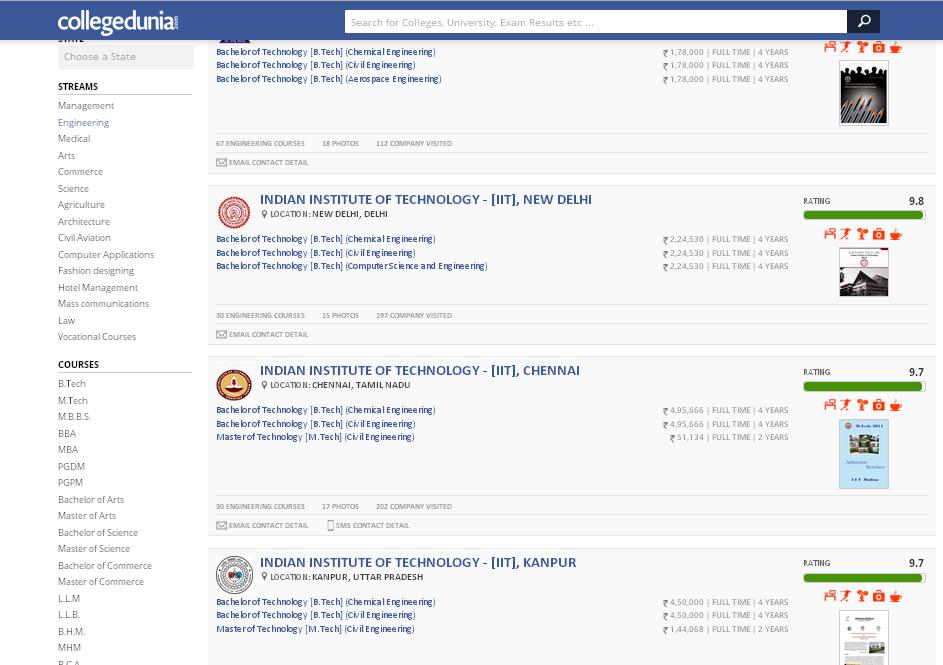 All the Institutes are ranked too so you can see which one has higher rank and there is also information of the courses offered, Contact details and how many Companies visited. Once you choose any particular Institute you can see more information of Fees, Courses,Faculty, Affiliation, Videos, Brochure, Placement Companies,Amenities and more.
This site is surely going to help many aspirants to choose the next higher education institutes, I can vouch for that. Its a really helpful site and this collaboration of huge information was really needed.  Thanks for reading and don't forget to share this information with your friends and near ones and benefit them as well.