So I am going to do a makeup related blog this time and its about my most fav makeup products for daily office/college wear. These are very budget friendly and won't give you a burn in your pockets :-). I have a confession to make. I am not someone who was very fond of makeup.. yes its a 'was'
I have become little fond of makeup now a days. During my college time the only makeup I wore was normal powder n a lip balm and it was the same for any occasion with an addition of kajal. I even didn't knew how to apply liquid liner when I started working, which I gradually learned from my friends.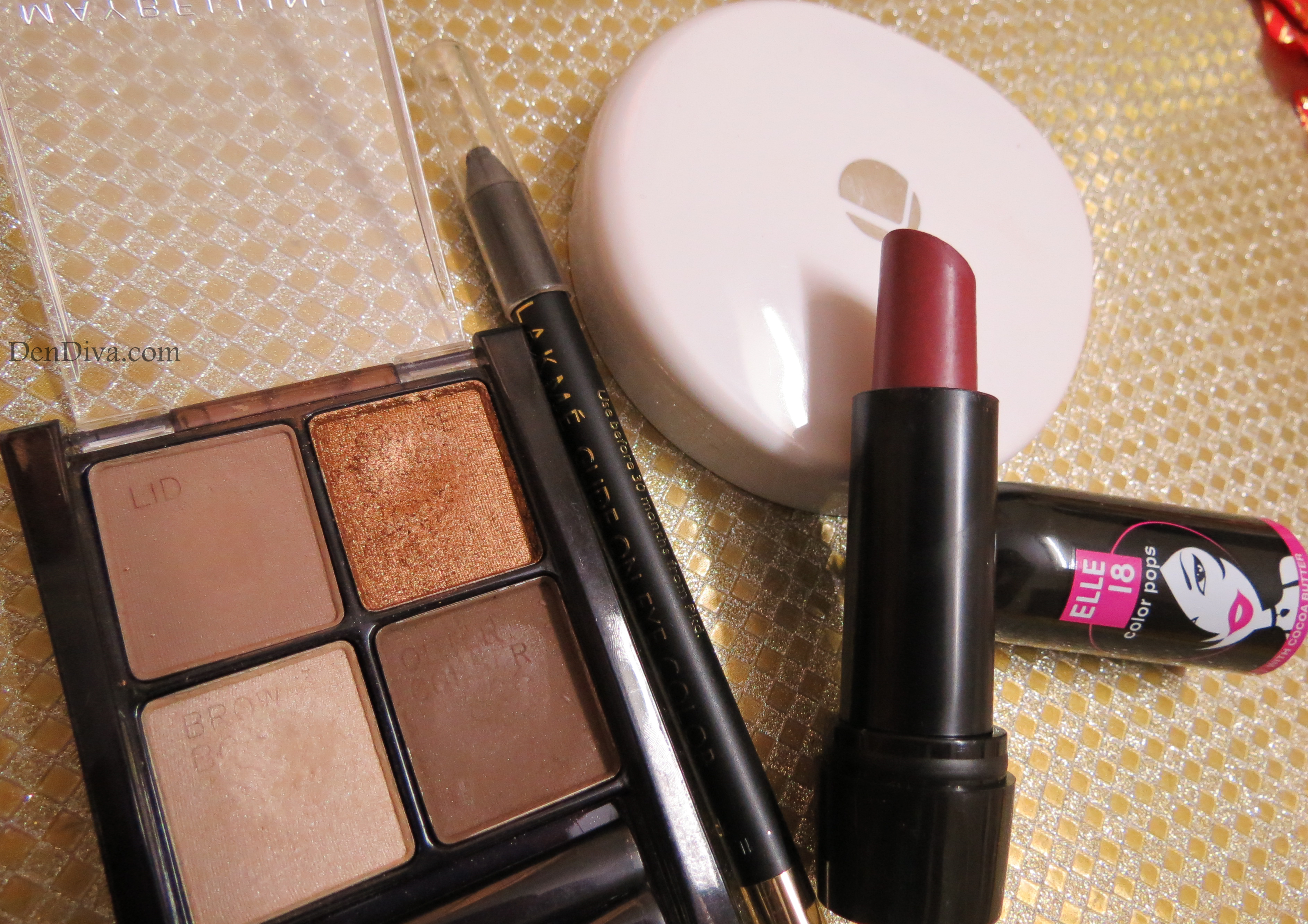 Lately I am little fascinated with makeup and how a little addition can enhance your features. I still don't own lot of makeup stuff, got only a handful. But whatever I have I use it frequently. Ok I have rambled long enough,lets get to the point.
So I will share with you my Fav 4 products for daily wear.
1 ) Lakme Glide on Eye Color -Shade Metallic Black (Rs.275)
I simply love this shade. Its a greyish black shade with very sublte shimmer. You can apply it on the upperlash for daytime and for night time use, just smudge it for smokey eye effect.
2) Elle 18 Color Pops -Pomegranate pie  (Rs.100)
Its a very nice color and will suit almost all Indian skin tones nicely. The color is kind of pinkish with mauve undertone. A very decent color, and it looks really natural on me, suits me very well. The texture is creamy and the rich cocoa butter keeps your lips moisturized.
3) Lakme Perfect Radiance Intense Whitening Compact  -Shade Golden Medium 03 (Rs.180)
This is the compact I am using currently. The color suits my skin tone perfectly and stays for a decent time. A compact is a must for every girl to do those last moment touch ups. It blends really well and has SPF 23.
4) Maybelline Eyeshadow Quad-  Shade Chai Latte (Rs.250)
I simply loveeeeeeeeeeee this eye shadow quad. Its perfect for a casual day look or a sultry smokey eye party look. I mix n match the shades with my other eyeshadow quad as the color are neutral and can go with any color. A Must have for anyone looking for cheap buy good quality eye shadow for day time wear.
You can check out the swatches of all below.
So what are your fav budget makeup products.. do share with me