This is a decent lippie, kind of daily office wear type I got recently. Check the swatch at end of the blog…
There is actually nothing extra to say regarding this one… so I will come straight to the point.
Packaging – Bright pink tube with flower motifs. Kind of a girly package, can't tell as sleek or classy.
Color – It is light rust shade with slight orange hint. It's not brownish as it looks from outside. It suited me ok.
Wear It –  A decent color for office wear, occasional casual wear.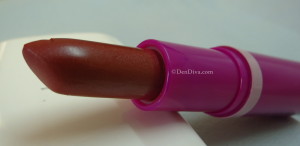 Texture – Its got nice creamy texture and you won't need lip balm to wear with it.
Scent – Scent is ok, not too strong, mild sweet smelling lipstick.
Price- Rs.100.- is definitely well worth the price.
Rating – 2/5
Recommend Buy : Not very fond of the color, may give it a pass…won't buy next time.
What's ur office wear lippie and you must have that when you go out…