Normally I prepare some chinese item with mushroom like chilli mushroom or manchurian. But I wanted to try something different and with more gravy. So I looked in my fridge had some frozen peas,tomatoes,cream and thought let me make mushroom matar today. I loved it and will cook it more often in my kitchen. Check out the step by step recipe with photos.
You will need -
1) Mushroom – 250gm
2) Tomatoes – 2
3) Green peas – Half cup
4) Onion – 1
5) Ginger garlic paste – 1 tsp (I used whole ginger and garlic,you can do that too)
6) Spices – Turmeric, Jeera, Corianer, Red chilli powders and salt
7) Tomato paste – 1 tsp mixed with water (optional as I like the tangy taste and color it gives so added it,you can skip it)
8) Kasoori Methi – 2-3 tsp
9) Fresh cream – 2-3 tbsp
Prep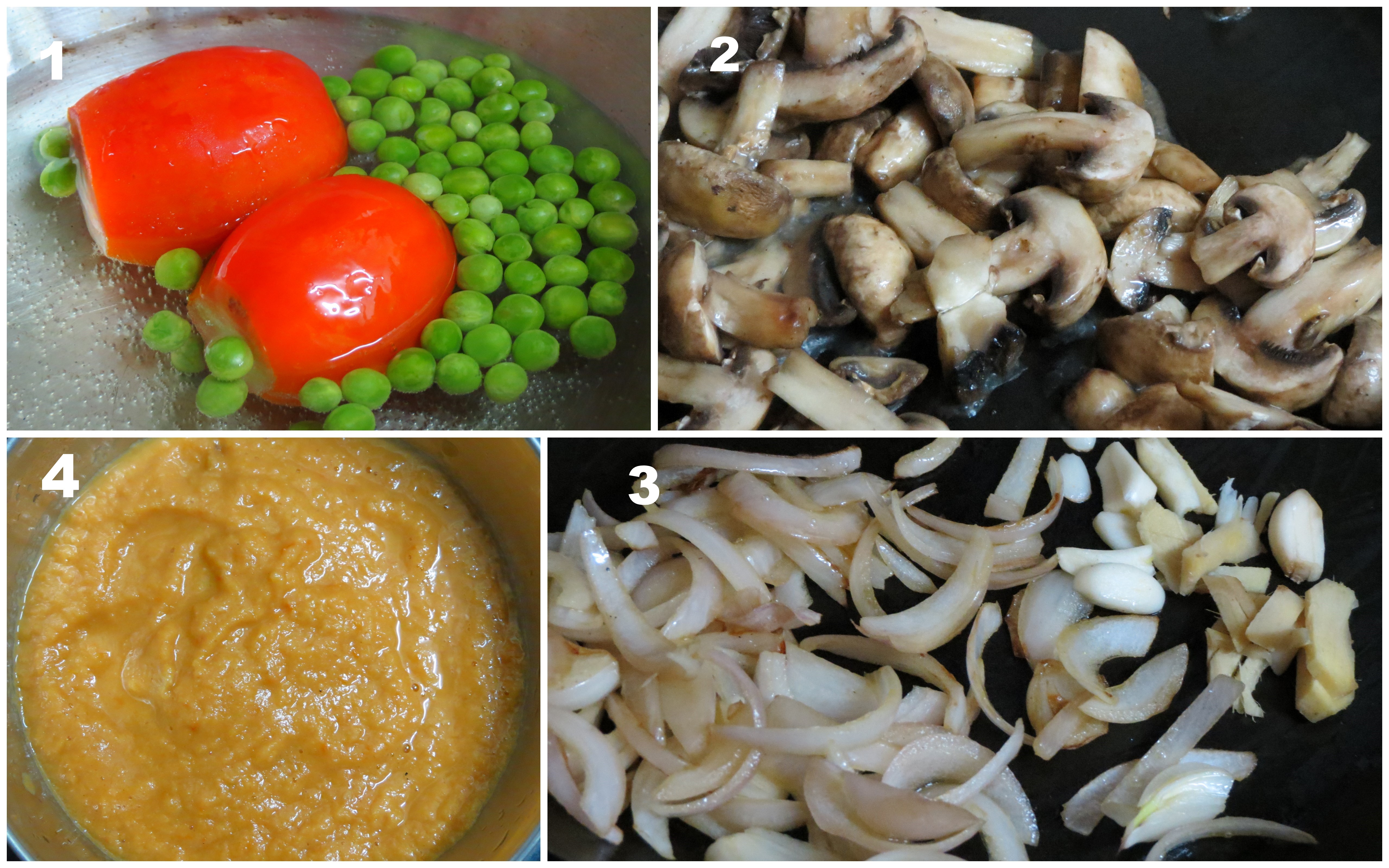 1 ) Boil the tomatoes and peas in a pan till they are done.
2) In a take some oil, saute the mushrooms for 3-4 mins and keep them aside when all the water from mushroom are dried.
3) In the same pan add some more oil and add the onion,ginger, garlic are saute them for 5 mins,then keep them aside too.
4) Then take the onion,ginger garlic and the tomatoes, grind it to a fine paste.
Process

  (cooking will be done in medium heat)

1) Take some oil in a pan and add the paste we made above.

2) To it add all the spices and cook for 4-5 mins

3) Then add the tomato paste and cook for another 4-5 mins (optional)

4) Keep cooking the paste till water is dried and it leaves oil from the sides

5) Then add the sautes mushrooms and boiled peas and add little water, cook for another 5-6 mins

6) Then add the fresh cream and cook for another 2-3 mins

7) Finish it by adding kasoori methi,cook for 1 min and its ready to serve.

Try it and I am sure you are going to love it. It goes perfect with roti or naan.