Hey everyone, I am back with yet another yummy recipe. This recipe was kind of accident by me, I intended to make a proper cake normal size one one day, but the cake batter I prepared was kind of less for the cake baking tray I had, so the height of the cake was reduced
.But hubby kind of liked it as it was kind of chocolate brownie sized cake perfect for evening time snacks, little small in size so you won't feel much after eating a piece. But if you want to make proper cake then just double the amount of ingredients.
So to make it we will need
Ingredients with quantity :
1. Flour/ Maida – 1 3/4 cup
2. Butter – 1 tbsp
3. Sugar – 2 Cup in powdered form (it is easier to mix that way)
4. Cocoa Powder – 3/4th Cup
5. Baking powder – 1/2 tsp
6. Eggs – 2
7. Milk – 1 cup
8. Vegetable oil – 1/2 cup
9. Vanilla essence – 2 tsp
10. Hot water – 1 cup
11. Salt – 1 tsp
12. Baking soda- 1 1/2 tsp
Pre-heat oven to 180 C or 350 F
Process
1. Apply butter to the baking tray so that it is coated well from all sides  then sprinkle some flour & coat it nicely (to avoid cake sticking to the sides)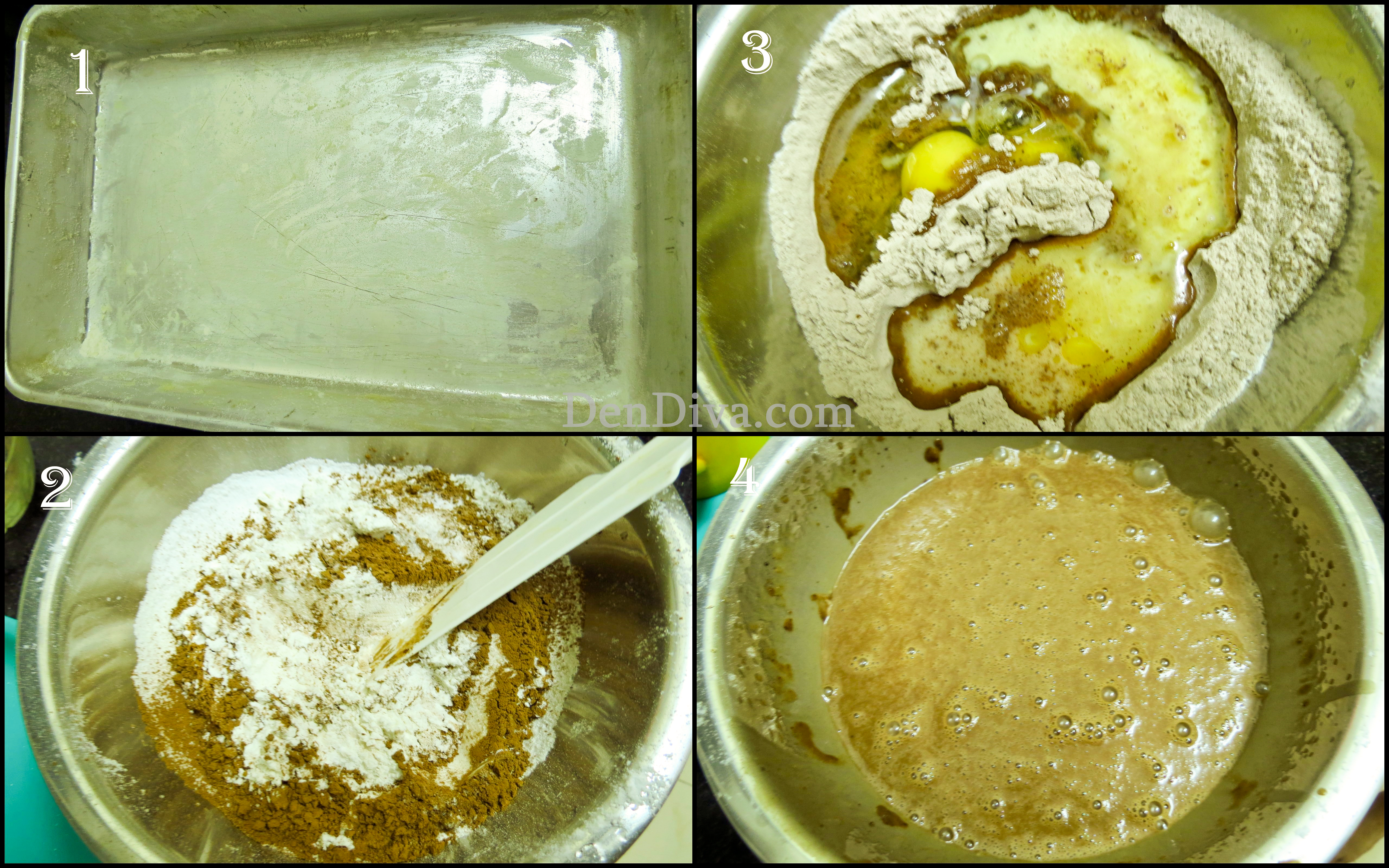 2. Take a big bowl and add the sugar, flour,Baking powder, Baking soda, Cocoa powder, Salt and mix it well. (To avoid lumps sieve the sugar,flour,cocoa powder)
3. Once everything is mixed uniformly, add the eggs, milk, oil and mix for 10-15 mins
4. Then add the vanilla essence and mix it in slow speed for 2-3 mins.
5. At the end add the hot water and mix everything for a couple for minutes.
6. Pour the cake mix into the cake tray and bake at same temperature setting for 15 – 20 mins.
How to know your cake is ready : 
I normally bake first for 15 mins and then I pierce a toothpick into it, if it comes out clean means it is cooked evenly.
If not then I bake for another 5-10 mins but keep checking constantly. In baking there is a thin line between done and overdone. So 1 or 2 mins late and you see the top of your cake is burnt. And normally when it is done, you can smell the cake smell (don't know how to explain this, but imagine you are in a baking shop with fresh cake baking smell in the air, exactly that smell you will get :-D)
So here it is Chocolate short cake… you can just sprinkle some colorful chocolate sprinklers to give a nice pop of colors.
I normally cut into small pieces and store in a air tight container in room temperature, it stays up to 6-7 days without getting spoiled.
Let me know guys how you liked it… you feedback,suggestions and tips are welcome