Dotting tools are a must for any nail art enthusiast. You may make your own dotting tool at home. Check out my video here where you will find list of products that can be used as dotting tool (from simple items you can find easily in your home).
Now if you want to buy a little professional dotting tools, no need to be disappointed, we have many online sites in India(or shipping to India) selling those at reasonable prices. I will list below some sites along with the product link, you can check for yourself.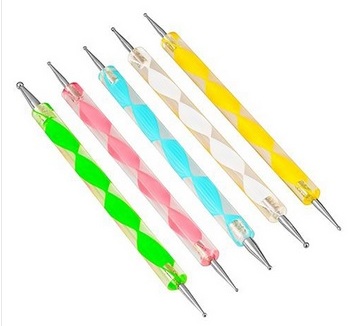 All listes items are set of 5 Dotting tools.
Sites in India
1. Flipkart – Rs.290
2. Ebay – Rs.249
3. Violetbag – Rs. 350
Sites Shipping to India (Free Shipping)
1. BornPrettyStore – $3.79 (Use Coupon Code DENDIVAK31 to get 10% OFF)
2. Aliexpress – $1.19
P.S : If you don't find the exact items now (as I wrote this post long time back) you can get an idea in which site to look for the items.
So pick your dotting tool and start doing nail arts. Check out my Youtube Channel for easy nail art videos.