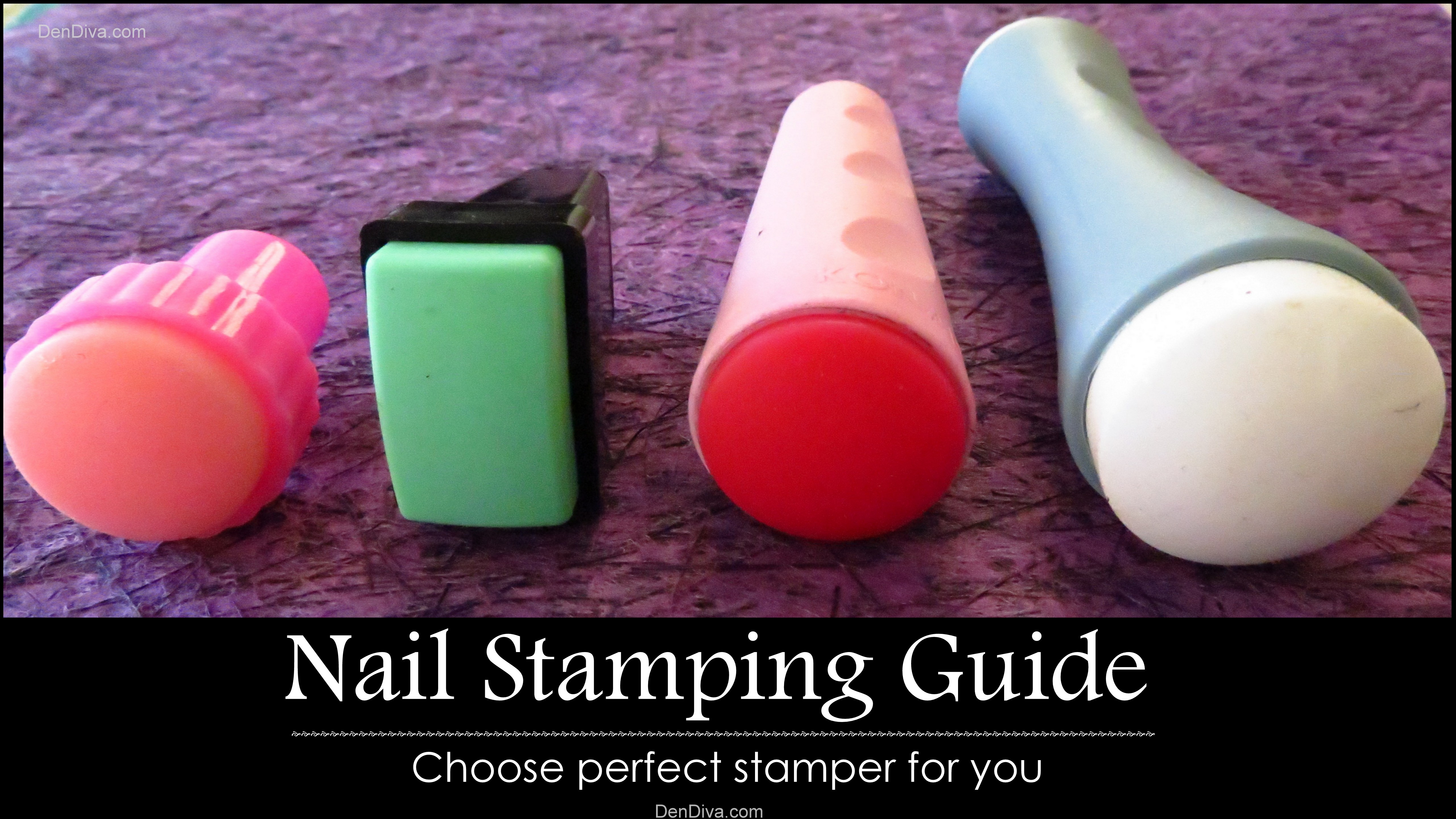 I am starting with a new series of blog post which is Nail Art Stamping Guide. Covering all aspects in one post is impossible,so there will be multiple posts. For a great stamped nail art, a good stamper is must. If you want to start with Nail stamping, then do go through this post, it will help you for sure. And you will be clear regarding how's and why's of nail stamping. Today I will cover about Types of Nail Stampers available and which one you should choose based on the features,which will be perfect for you. And what stampers are available in India with product links.
I will compare 4 different common types of stamper available. And I will compare all with 7 common features
1) Does the stamper needs Priming
What does Priming mean?? When you get a certain type of stamper and the first time you try to stamp, it doesn't pick up the design properly (or at all). You need to prime the stamper by gently buffing the surface with a nail buffer. Do it very lightly and with the Buffer side -Fine Nail Edge and Remove ridges. I will post a tutorial soon, how to do nail stamper priming, it will help you.
2) Quality of the Stamper
Is it rubber/silicone /jelly/ marshmellow stamper. And how firm it feels when you press it.
3) Does it picks up large size images
It will come in to play when you get stamping plates which have images which are in continuation.
4) Will it stamp properly on long nails
If you have very very long nails, then all these may not work.. look out for Creative Shop stampers, as that stamper is the largest stamper available now and many bloggers having very long nails love it.
5) Does it transfer intricate patterns properly
6) Does it transfer the design in curve of the nails
7) How good is the scraper which comes with it, to wipe the polish from the stamping plates
Now check out the stampers with its features, you can decide which one suits you best.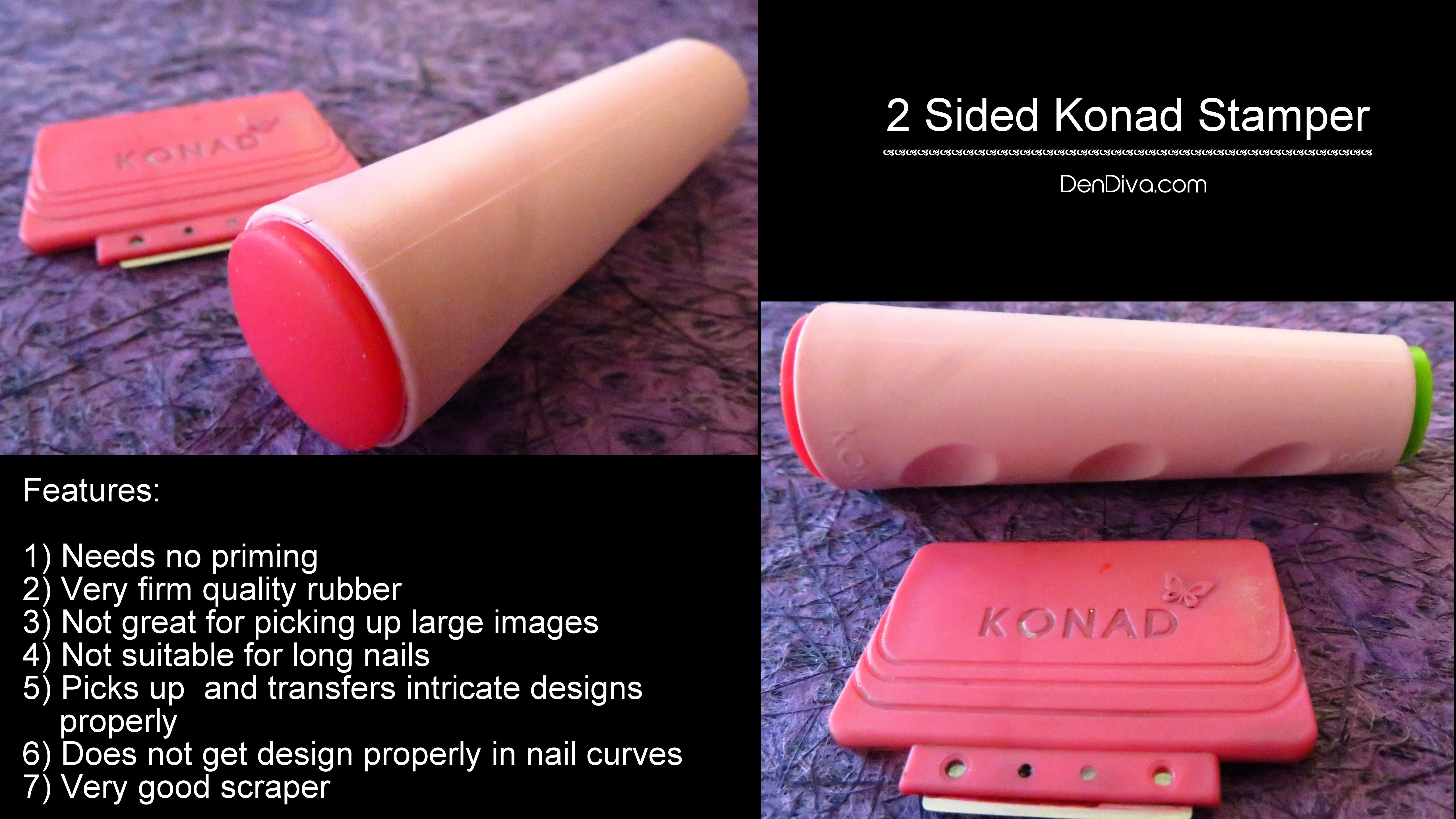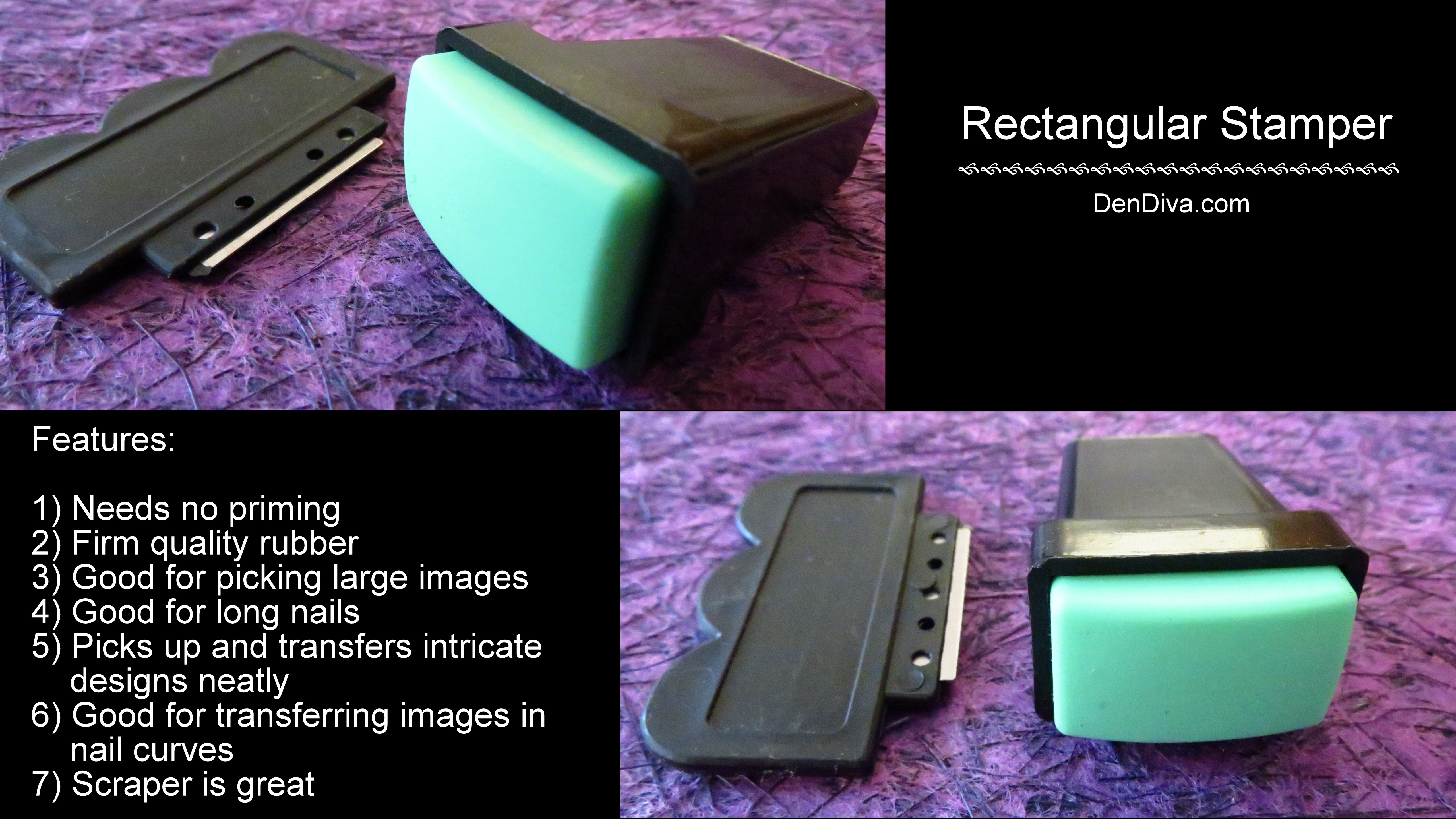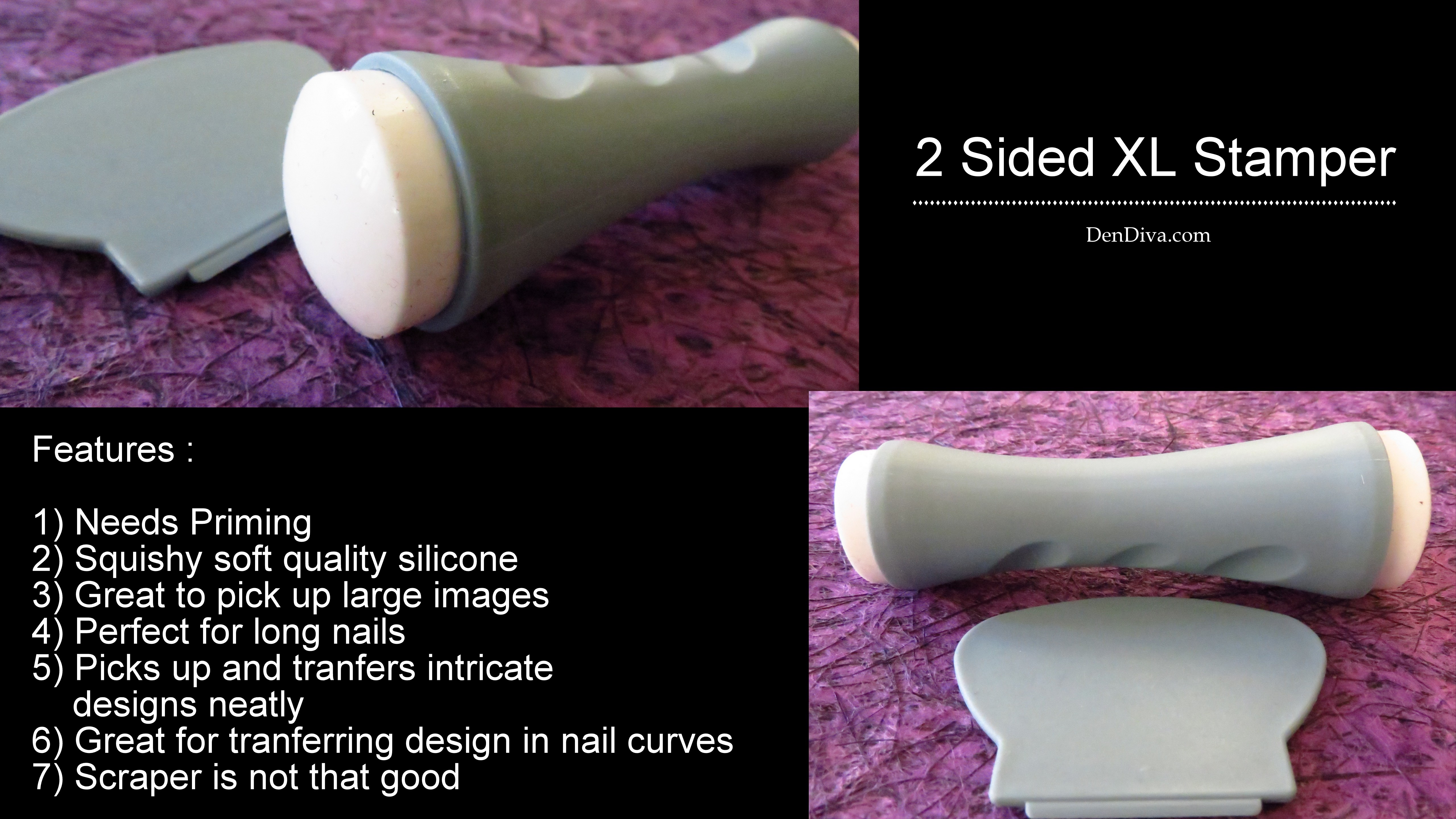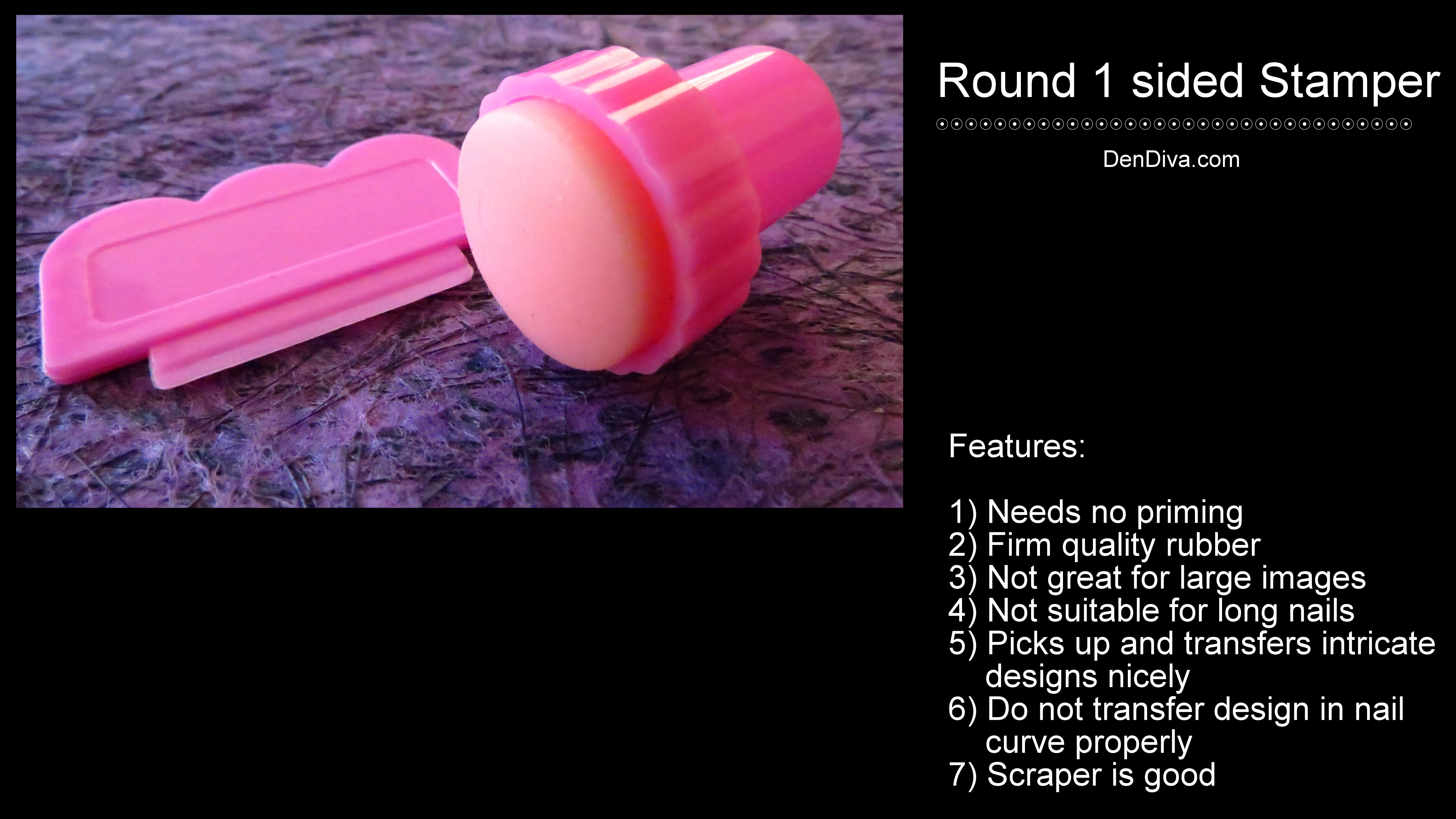 If you want to buy a nail stamper set in India, check out the below links. I have just listed from where you can buy them (since sites are updating their items, if you can't find this particular product, do browse the site, you may get it)
1)  Small Round Stamper (Rs.300)
2) Konad Double Side Stamper (Rs.305)
3) Konad Multi Stamper (Rs.480)
4) Salon Express Stamper (Rs.359)
If you want to buy Rectangular / XL squishy stamper check out links below of :
BornPrettyStore.com (they have free shipping to India) – Use my Coupon Code DENDIVAK31 to get 10% off!!
Rectangular Stamper  (Rs.210)
XL Squishy Stamper (Rs. 235)
You can check more from my 'Where to buy' series of post, to know where you can buy different Nail art related items in India at a reasonable rate. Hope this post was helpful to you.
There are also Jelly and Marshmellow stampers available.. they are kind of similar to the Double ended stamper here, just the material of the stamper head varies.
My favourite is the rectangle one, as its width is narrow and little big than the nails, the excess polish you get stamped around cuticles is less, it works with all types of plates, transfers intricate pattern nicely, no maintenance (read Priming)
Which one you would like to choose and why…