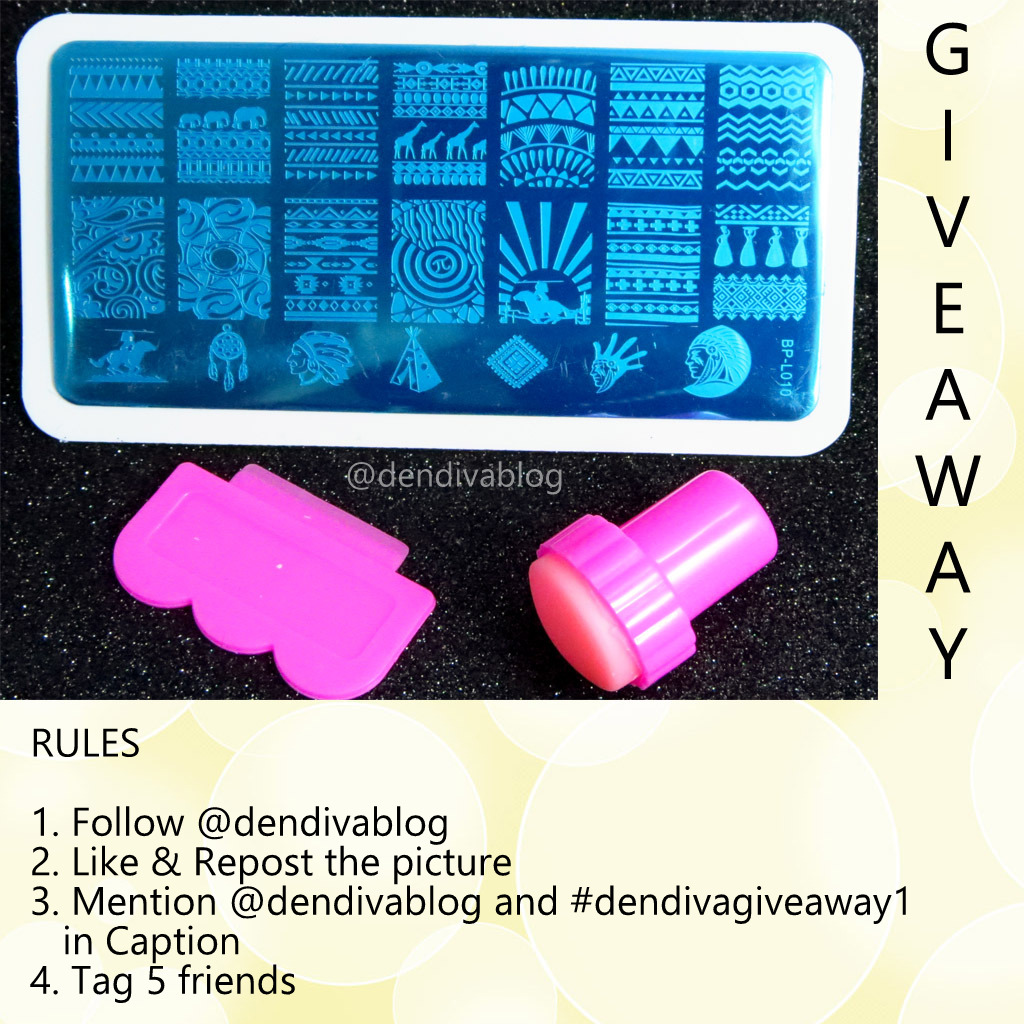 So I am starting off the First giveaway today, its an Instagram giveaway… and there's 2 more to follow (Read more Upcoming Giveaway & rules here).
RULES TO ENTER
1. Follow me on Instagram – @dendivablog
2. Like and repost the Giveaway picture in my account.
3. Mention @dendivablog and #dendivagiveaway1 in the photo's caption.
4. Tag 5 friends who will be interested for this giveaway.
Prize
You win the new BornPrettyStore Large Stamping Plate (BP L010). It has really cool Aztec and Tribal patterns. And a new Stamper/Scraper Set.
GIVEAWAY RULES :
1. Giveaway ends May 14 12pm. Winners will be announced on May 18.
2. Open only in India. If you have India Shipping address you can take part.
3.  You must be 18 or older.
4. Keep your account Public on the days I will verify the entries (on May 15 & 16). Will give a reminder.
5. I will verify and if you have followed all the Rules, will Like your post.
6. I will Use Random.org to pick out the winner, will be assigning numbers to valid entries (I will note it, you won't be able to see)
7. I will video the process of picking out the winner and post in my Instagram.
8. Only one entry per person.
9. No giveaway accounts.
10. The winner will have 24 hours to respond else I will pick a new winner.
11. Lastly No Negative/Rude comments. And no unfollow after giveaway, else you will be banned from future giveaways.
Shipping the Prize
I will courier the Prize to you by one of the best Courier companies (Ex. First Flight/ DHL/Blue Dart). But will not be held responsible if the shipment is Stolen or lost.
So hurry  and do follow me in Instagram to take part !! Any other queries you can ask me.
UPDATE: Giveaway is closed now & Winner has been chosen