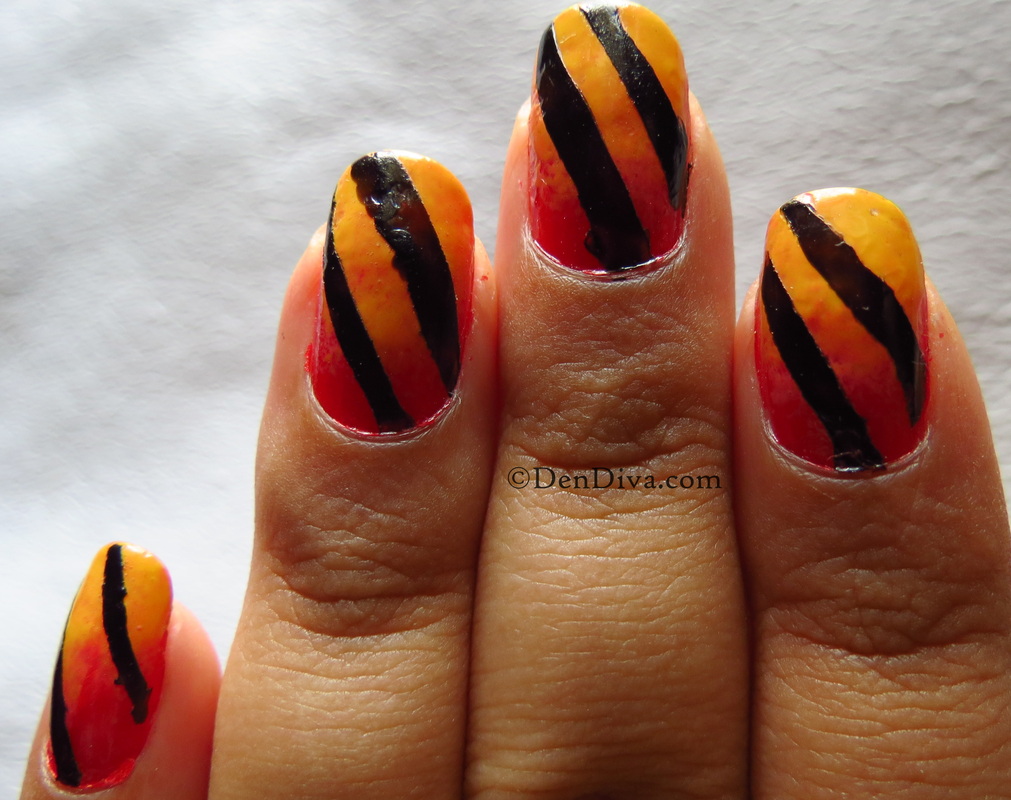 Sunset inspired nails
This design I tried when I first got my yellow polish.Wanted to do something I never tried before.
So thought to try a gradient nail art.
Products used:
Avon Simply Pretty 'Cherry Red'
Avon Simply Pretty 'Black Beauty'
Essensual 20 Daily Dazzler 'Peppy Yellow'
Avon Top coat
Cello Tape/Scotch tape
Note : I will be referring nail polish as NP.
For the Gradient effect:
1. First apply your base coat (if you want to)
2. Apply one or two coat of your red NP (depending upon its opacity). Result should be complete opaque nails.
3.Once the red NP dries,take a small piece of sponge and apply some Yellow NP onto it. Dab the sponge from tip of your nails towards cuticle (inside). Apply more pressure in tip and decrease the pressure as you move inwards to giva a gradient effect.
4.Do the above step 1-2 times depending on opacity of your yellow NP.
5. Take the yellow NP and apply only on the tip of your nails, like a french manicure tips.
For stripes:
1. You can use free hand and put stripes if you can using just the black NP applicator/brush.
2. Or cut small long stripes of cellotape and put it on your nails  in any direction you want. Apply 2-3 cellotape stripes on a single nail. Apply the black NP. Leave for 1 min and remove the cellotape.
Once the polish dries completely seal your design by using a top coat.
Let me know if you like this. Looking forward to your feedback & suggestions.