All you nail art enthusiasts out there, really want to show your creative side, but don't have appropriate tools.. well don't be disheartened, check out my posts related to where to buy nail art tools and accessories in India which are available in reasonable prices in various online sites. In today's post I will share some sites where you can buy nail art brushes of different types at cheap prices. I own some of this products and am happy regarding the buy, and now-a-days many sites are selling the nail art tools. So I will list below some online sites where you can buy Nail art brushes.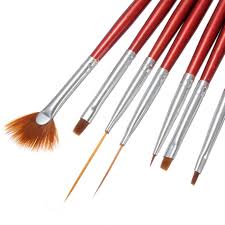 1) Nirus Nail Art Brush Set 7 Pcs NAB2 – Rs. 420 ( I have this one)
http://www.slassy.com/Nirus-Nail-Art-Brush-Set-7-Pcs-NAB2/p
http://www.junglee.com/Nirus-Nail-Art-Brush-NAB2/dp/B00CINFJMG/ref=sr_1_2?s=beauty&ie=UTF8&qid=1396195783&sr=1-2
2)  Different Brush Set Packs from Flipkart
Nirus Nail Art Brush Set – NAB5 – Rs.280
Nirus Nail Art Brush Set – NAB4 – Rs.350
Nirus Nail Art Brush Set – NAB3 – Rs,375
Nirus Nail Art Brush Set – NAB1 – Rs.350
3) 15pc Nail Art Design Brush Set Dotting Dot Pen Drawing – $5.96
http://www.bornprettystore.com/15pc-nail-design-brush-dotting-drawing-p-439.html
BornPrettyStore has some other amazing nail art products as well and they ship to India too, I did recent haul and am quiet happy with them. I will be posting the review and haul post soon. Use the coupon code DENDIVAK31 to get 10% discount off all items.
I did have another set of nail art brushes (thin and fine bristled ones ), which my Sis got for me from ebay, but may be they are out of stock, so I can not see any brushes in ebay now. But you can check there too.
If you want to buy Dotting tools, you can check my post here to get info about all sites selling it.
Do share with me from where you get your nail art tools and brush, will def check it out.
P.S : If you don't find the exact items now (as I wrote this post long time back) you can get an idea in which site to look for the items.