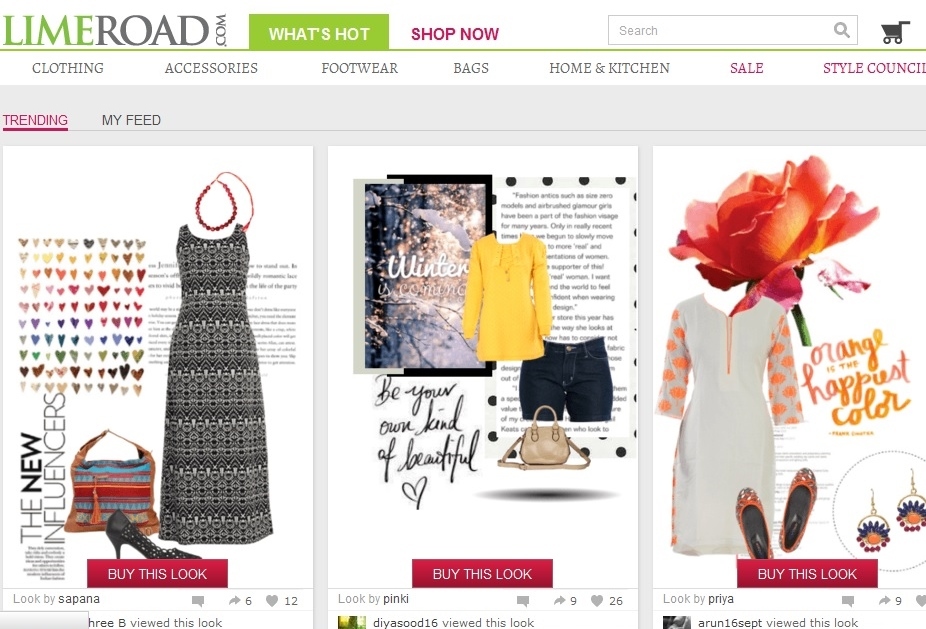 Today I will be reviewing a cool and trendy online fashion/home/accessories website, which is LimeRoad.com. I got a chance to shop a few items I was looking for, and was really impressed with the site. I will cover some important site features as well as my shopping experience here. So read on.
Site Layout and Usability : This impressed me the most, apart from their collection of course. As a website designer myself, a good looking/well planned website makes me happy
It has different categories of items, you can choose from and in the home page you can see what is trending too! The site is responsive and easy to use.

Item Categories and Buying a Product
You will find many item from these main categories : Clothing,Accessories,Footwear,Bags,Home& Kitchen. And you can Like and share any item too in your Facebook page, so that your friends can check it out too. You can save any product you like for later purchase. And you can see Seller Score for any particular product which will help to decide whether to go ahead with the seller.
Some of my favourite categories were Western Wear in Clothes, their collection of super trendy, cool and cheap purses and the Bath and body section, where I saw so many organic soaps,oils, shampoo and all very reasonable. Check out few of the products from these categories here.
Scrapbook is the most unique feature and kind of the USP of the site, which I haven't seen in any other shopping site. You can create your own look by combining outfit, accessories, footwear depending on occasion/style and shop the whole look together. And the Style Council get you fashion and style ideas from Celebrities, fashion bloggers. You can check what is their favourite picks/looks (follow them too) and can shop the entire look, which I think is great idea. Check how this looks in pics below.
I have got few products and waiting to get them. You will see the Haul soon too! So check out LimeRoad.com today, create your looks, get style tips and get an awesome shopping experience.