I got a cute pendant and some Konad image plates for nail art this time.
This was not my first shopping from Jabong.com. I had previously also ordered some items but didn't think of blogging then so couldn't do the unboxing kind of post. This one also I had ordered, before I thought I will be blogging about it someday! So may be with my next buy I will do the unboxing post.
So I got this pendant, isn't it cute. I really love it. Lately I am buying this long chain pendant stuff, may be because its kind of casual, will go well with shirts ,tunics,tops,kurtis. And this type of pendant will look cool and accessorize plain colored tops quiet well. It can be worn for printed too, but the print should be small and not eye popping kind-of, little subtle type.
I got this for Rs.345/-. I am not sure why this type of neckpieces come around Rs.400/-. Its kind if light, no heavy metal work. And detail work is only on pendant, the chain is very ordinary. Do you get similar stuff on street shops for less?
Do let me know. Just wanted to make sure I am getting right stuff what I pay for.Anyways I'm not complaining about the site as in almost all sites the price is same.
So I also got 3 Konad nail art image plates. If you are new to nail art and wondering what's with image plates,then let me give you a quick insight. Now-a-days nail art trend is really cool art to try on as it shows your creative side as well as give your nails a beautiful look. So many nail accessories have come up to spruce up the nails. Nail stamping is one among them. Here you use the image plates with various designs on them and just stamp on the design on your nails to get instantly cool and beautiful nails. Do check out my nail art blogs to see the nail arts I did using these.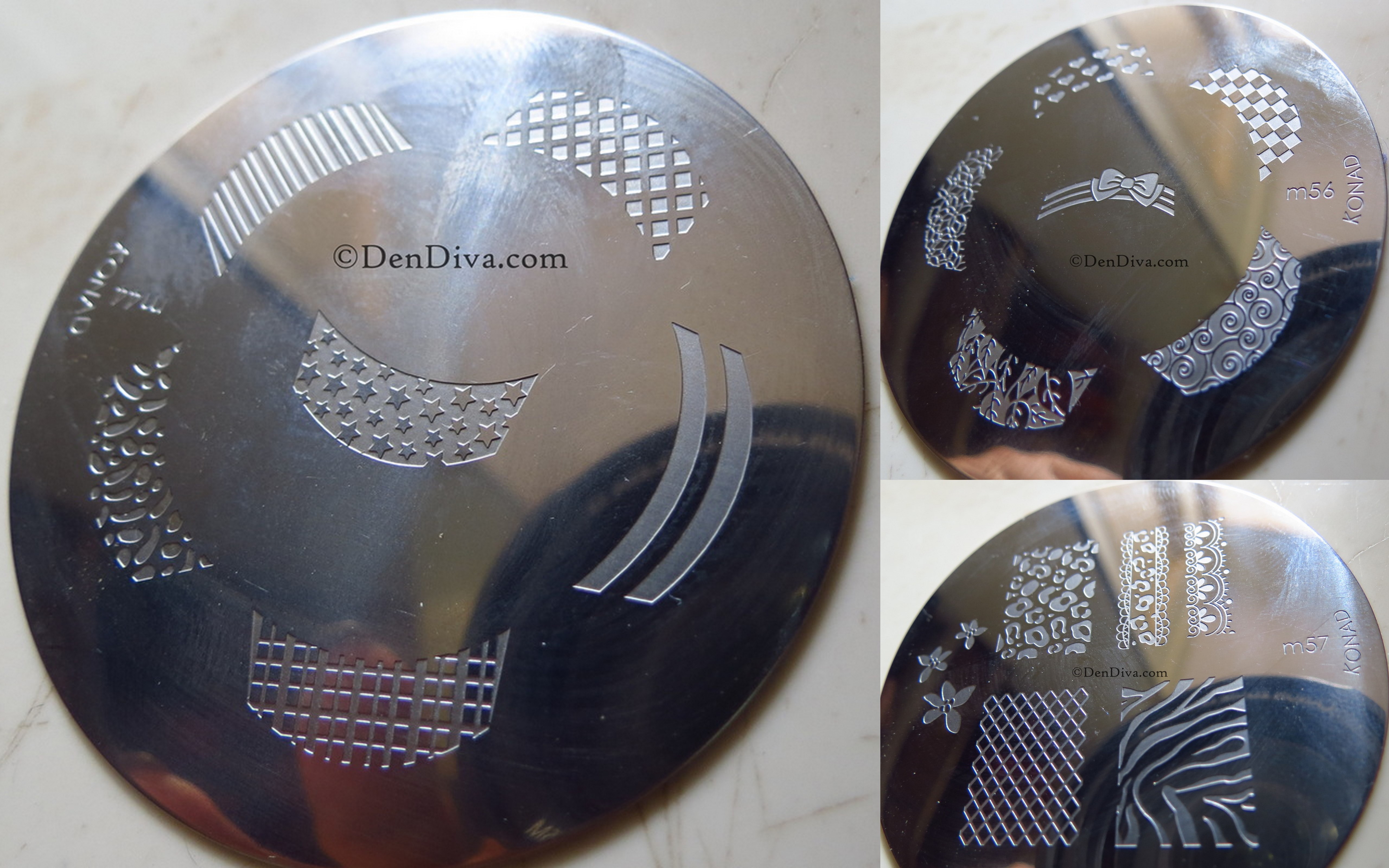 Konad image plate m44
I love to do french tip design a lot as it kind of gives a simple but chic look. So I got 2 plates with only french tip designs and one with complete nail design.
Konad Image plate m56
I love the designs on this plate, real pretty. Will do some nail arts on this soon.
Konad image plate m57
Now m57 is the most popular image plate of Konad from its 'm' series range of about 70-80 plates.It is almost impossible to get hold of one as I checked all available sites and it was unavailable. Luckily it was available in Jabong. But I had to pay a price though. In sites like Slassy.com, HealthKart.com, Violetbag.com you can get same image plates for less price of around Rs.140/-. But I had to pay Rs.200 for each plate as I wanted the specific plates only and was not sure when it will be available in other sites.
So what's your fav online site to shop…. do share.